CX Transformation Solutions Should Support Multiple Channels and Products
DecisivEdge empowers your business with Customer Experience Transformation Solutions you can trust. Our business leaders have not only implemented and integrated contact center technology, we have also run large contact centers and understand the daily demands our clients face.
There is no denying that the pandemic has accelerated the migration to digital for many companies. One of the most important digital transformations that an organization can implement is for its contact center. Many that did pivot, either with partial or full legacy system replacements, or to a full or hybrid cloud-based model that integrates with on-premise technologies, still have significant Agent and Customer Experience gaps, causing a frustrating interaction environment.
The impact of a poor Customer Experience affects an organization both in the short and long term. For example, according to McKinsey Customer Experience benchmarking, banks with leading customer experience ratings delivered 55% higher total shareholder returns compared to firms with lower CX performance. To nail the point further,  "three quarters of customers say they would spend more money with a company that could provide a good digital Customer Experience," states the The Financial Brand.
So everyone understands the importance of CX in their business.  But why do so many of these digital transformations fail to reach their full potential?  For many, the pandemic forced organizations into many quick decisions. Now businesses are circling back to find Customer and Agent Experience gaps.  This presents the opportunity to look more strategically, and to dive deeper to thoroughly understand how integrating with new tech will affect existing workflows, technologies and the customer.
Compounding the issue is that in "the new reality", customers are using more channels than ever to interact. Personalization and a seamless experience are now considered essential. Based on the 2021 Forrester Opportunity Snapshot, 57% of organizations accelerated their digital transformation efforts in response to changes they experienced in 2020, which impacted their long-term contact center management approach. But most companies who have implemented Customer Experience (CX) transformation solutions are still not providing a smooth and uniform omnichannel experience for the customer.
How Does Your Business Measure Up in Customer Experience?
A recent Harris Poll survey revealed that 50% of certain companies believed they were delivering excellent Customer Experience, but 75% of their customers disagreed as supported by the State of the Connected Customer report.
Need more proof? A recent  PWC report  found that the number of companies investing in the omni-channel experience has jumped from 20% to more than 80%.
Do you know where you stand and are you aligned with your customers?
If you are reading this, you are undoubtedly wondering how to use this information to make measurable improvements to your contact center.
Here is some advice to get you started.
Truly Understand the Problem: The Digital Divide Is a Consequence of Technology, Tactics and Time
Support of multiple channels in the contact center can be a challenge. There are complexities created that can inhibit the frictionless and seamless interactions being sought. That said, the digital world can provide solutions – in real time. But in order to devise a strategic solution, you first have to understand the problem.
The digital gap is a consequence of technology, tactics and time. What do we mean by that?
Technology – Legacy technology platforms lack the full capabilities required to support today's multi-faceted customer needs. They are often siloed – or disconnected – and thus cannot fully support multiple channels and products. On the flip side, even many new technologies are neither fully optimized or fully integrated with existing technologies.
Tactics – The skills and tactics required to support the newest cloud-based platforms, or even hybrid models that integrate new and legacy technologies, are much different than those required to maintain existing premise-based systems. Significant investment for re-education, new hires and re-tooling are required.
Time – In order to pivot to digital and execute such a contact center transformation, internal IT staff would need to develop the integrations and customization requirements themselves. The scope of this endeavor would be significant, causing delays in implementation, exposing the business to even more risk and resulting in customer attrition and growing agent and customer dissatisfaction.
Of great concern, customer attrition, customer and agent dissatisfaction, wasted time, resources and money are all consequences of operating within the digital divide. The good news is the issue is fixable and a digital divide can be easily fashioned into a digital bridge, with a little help from DecisivEdge.
Harness and Mobilize CX Transformation with Agent Experience Top-of-Mind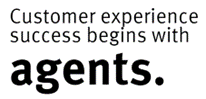 The Agent Experience is key to the overall Customer Experience. Contact center agents already have a challenging job when working towards becoming an advocate for the customer. Complicating matters is the need to navigate multiple screens to satisfy to support customer interactions.
This results in a disconnected experience, wasted time and poor first contact resolution, diminishing the Customer and Agent Experience. The migration of customer interactions to voice, mobile, chat, text, social and online have compounded the situation as an MITSloan Management Review discovered that 66% of customers use at least three different communication channels. Organizations need to rethink operations, prioritize technology, upgrade analytics, and align digital and human interaction with speed and accuracy. The need for a robust digital strategy is clear.
There are CX transformation solutions that support the Customer and Agent Experience to create a seamless omnichannel experience. The solution integrates disparate systems, and implements intelligent routing and messaging, while leveraging artificial intelligence (AI) and Natural Language Processing (NLP) into workflows.  AI and machine learning in the contact center are not only providing self-service and personalization options, they are listening to customers' natural language and efficiently routing them to the correct contact center agent or department. Aside from saving time and money on both ends of the interaction, the customer and agent satisfaction receives a significant boost.
In fact, CX solutions help agents by achieving the following:
Delivery of Excellence – Contact center agents desire and need agent assist software to aid them in their job to deliver an optimal experience.
Better Coaching – Contact center agents desire better coaching and remote environments have make this a challenge in the past.
Better Scheduling – Contact center agents desire better scheduling options, which previously had been been lacking.
CX Digital Transformation is a Marathon, Not a Sprint.
Start with one customer journey in one functional area. This allows for focus and concentration as well as the ability to envision how it would scale.
For example, perhaps a good place to start would be a hybrid approach of a deployment, such as an Interactive Voice Response (IVR) using Natural Language Processing.
In addition, using Voice of Customer and Behavior of Customer, predictive enhancements can be delivered to strengthen self-service or voice. This helps agents better understand customer intent, which greatly improves voice interaction.
CX Solutions Starts with the Right Partner and Approach.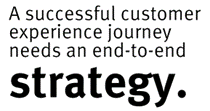 CX leaders need to think about digital transformation as more than adding new digital channels for engagement. The real opportunity is to really understand what a successful Customer Experience journey looks like, identify the gaps or areas of friction, and implement changes in every aspect as an end-to-end strategy. Without a cohesive "shift" strategy, processes and interactions between agents and customers will continue to be disconnected.
This entire process not only includes finding the right technology, but finding the right partners to shape this strategy and implement it.
Finding the right digital transformation partner is key. They should not only have experience within your vertical, but also understand the ins and outs of how to manage a contact center. Your partner should be able to collaborate and leverage their consulting experience to transform and implement business strategies and business operations realignment. A solid collaborator will help you realize that digital transformation is more than just finding the right tech – it's about your people.
Implementing new practices for agility and experimentation will be key, along with people change management. Above all else, find a partner who not only brings fresh ideas to the table, but one whose teams will work hand-in-hand with yours to implement the transformation solutions to create a seamless omnichannel experience for customers and agents alike.
For example, DecisivEdge is a global business consulting and technology services firm focused on creating a sustainable, competitive edge for any business through digital transformations. We are technology agnostic and solution specific, and can partner with industry leading solution platforms like Five9 which facilitates billions of call minutes annually and provides digital engagement, analytics, workflow automation, workforce optimization, and practical AI to create more human Customer Experiences, engage and empower contact center agents, and deliver tangible business results. We then work hands-on with implementation to provide real-life end-to-end solutions.
Read about our recent collaboration for a behavioral health care contact center in this case study.
Take the Next Step in Your CX Transformation Journey
DecisivEdge is a global business consulting and technology services firm focused on creating a sustainable, competitive edge for any business through digital transformations. We are technology agnostic and solution specific. We help partners like Five9 and our respective clients explore opportunities to fully optimize best-in-class technology solutions, in conjunction with analytics and data-driven operational strategies, and then work hands-on with implementation to provide real-life end-to-end solutions.
Read about our recent Five9 collaboration for a behavioral health care contact center in this case study.
We are knowledge leaders with deep industry experience. Our clients benefit from our unique ideas, knowledge of industry best practices and our ability to develop creative solutions to overcome their highest priority business and technology challenges. Our collaborative approach is designed to really understand our clients' business objectives, and then deploy a seasoned solution delivery team to get the job done right the first time.
Get in touch with DecisivEdge today and we will be glad to help you on your CX Transformation journey.