Partner with a Top SaaS Application Development Company
If you are a start-up, an SME, an enterprise needing SaaS (software-as-a-service) support or have an idea that you'd like to bring to life, we have your back. Our SaaS experts are here to help from the planning to development to testing to execution, and custom build software services for any requirement you may have. Support doesn't end once your SaaS product is built; we go above and beyond deployment to assist in maintenance, marketing and even selling your SaaS solution. A combination of onshore and offshore app developers with solid knowledge of the cloud will help you scale quickly, while staying on budget. Hiring the right SaaS application development company is critical to the success of your product, your vision, your dream.
Our SaaS Application Development Process is Your Secret Sauce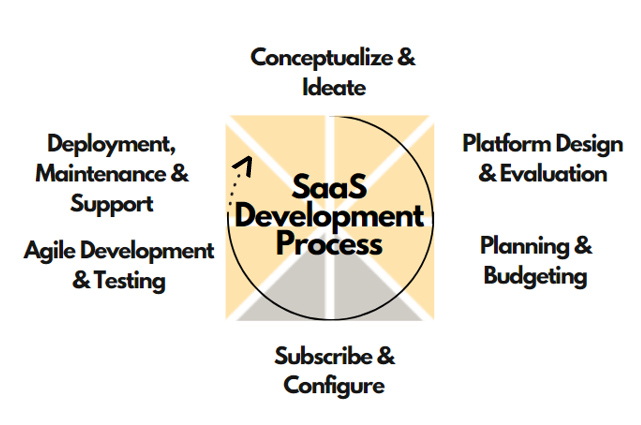 Conceptualize and Ideate
Our SaaS development process starts with determining requirements and new business opportunities. We define the product and its primary functions, understand the end consumer, do research to determine current markets served and develop an application development roadmap.
Platform Design and Evaluation
Platform Design and Evaluation
Our DevOps and engineering teams both onshore and offshore, evaluate various platforms to ascertain the architecture (multi-tenet or otherwise) required to provide the best UI/UX experience. We assessment tests for maintenance, scalability, reliability and security.
Planning and Budgeting
Determination of infrastructure costs, cloud-based (and other) environments, software requirements, onshore/offshore resource allocation and confirming budgets against the SaaS product roadmap, marketing and sales plans etc.
Subscribe and Configure
We purchase all of the technology that will be required across the build of your SaaS product. This includes configuring all aspects to ensure smooth source control, agile management, development, test plans, execution, and deployment across multiple environments.
Agile Development and Testing
Agile Development and Testing
Watch your SaaS-based application come to life. This step includes a considerable amount of time creating epics and user stories, prioritizing backlogs with product roadmaps, the creation of test plans and executing them, tracking velocity and coordinating planning/review sessions.
Deployment and Maintenance
Deployment and Maintenance
Setup and configure DevOps to support deployments across all environments (including cloud). This means defining a maintenance schedule, organizing resources, and a customer helpdesk. Periodic security check support and performance monitoring is also provided.
Why DecisivEdge For SaaS Application Development?
A strong understanding of primary business principles, and a track record of successfully delivering cloud-based SaaS solutions across multiple industries.

A highly skilled, global SaaS application development and support team that offers you flexible pricing, follow-the-sun development and maintenance. Our teams are based in USA, India and Canada.

Our resource model allows you to hire SaaS application developers from our pool of talented professionals. This enables you to provide inputs and requirements for our tech team to then set up.
12+ years deploying successful SaaS platforms + confidence we are invested in the success of your software-as-a-service business.

An experienced SaaS marketing and sales team that knows how to effectively build brand awareness and channel potential customers into the sales funnel.

Unparalleled customer engagement before, during and after the SaaS development process for continuous feedback and to ensure optimization every step of the way.
Our SaaS Product Success Stories